Giant Light Projection Of the Universe Presented In Bicentennial Park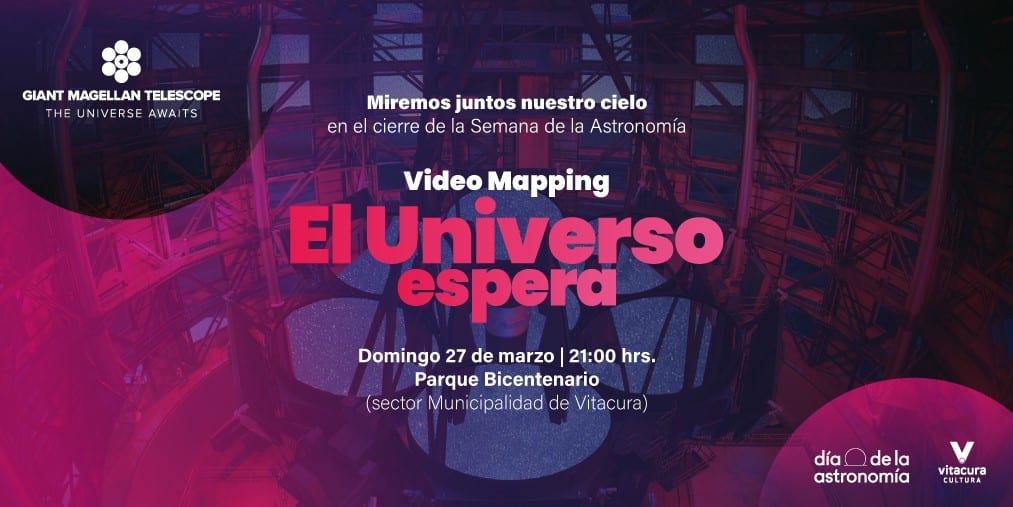 The Giant Magellan Telescope and Delight Lab, seek to surprise and educate attendees with an astronomical audiovisual function this Sunday, March 27.
SANTIAGO, CHILE — Science and art come together to deliver a unique experience to close out Astronomy Day, an initiative led by the Giant Magellan Telescope and the Delight Lab audiovisual studio. "The Universe Awaits" is a journey to uncover the secrets of the cosmos and the astronomical objects that humanity will be able to access through the telescope, being built at Las Campanas Observatory in the Atacama region.
"We have the great privilege and joy of being able to carry out this incredible activity together, which allows us to live an unparalleled astronomical experience, anticipating the great possibilities that the telescope will allow us to see thanks to its powerful mirrors," shares Miguel Roth, astronomer and Giant Magellan Telescope representative.
The initiative seeks to bring astronomy and science to public spaces. This is what Andrea Gana, artist and founder of Delight Lab, together with her brother Octavio, highlights. "Astronomy is fundamental to the Chilean identity, we look for instances to get out of the conventional spaces to meet, look, and understand astronomical milestones."
"The effect achieved by combining science and art is of great power, capturing the senses and interests of thousands of people, who seek questions and answers about our world and environment," adds Roth. In this, Roth agrees with the Gana, who see great harmony between both disciplines, sharing that "both art and science are found in spaces of reflection, carrying out methodical and research processes, and when they merge they are enhanced, which allows us to ask ourselves new questions, that's why this union is so attractive," says Andrea Gana.
Together with the support of the Cultural Corporation of the Municipality of Vitacura, from 9:00 p.m. to 10:30 p.m. on Sunday, March 27, attendees will be able to enjoy this video mapping that will be projected on the entity's building in Bicentennial Park.
Contact
Oscar Contreras-Villarroel
Director of External Relations in Chile