Planetarium at the Municipal Theater of Santiago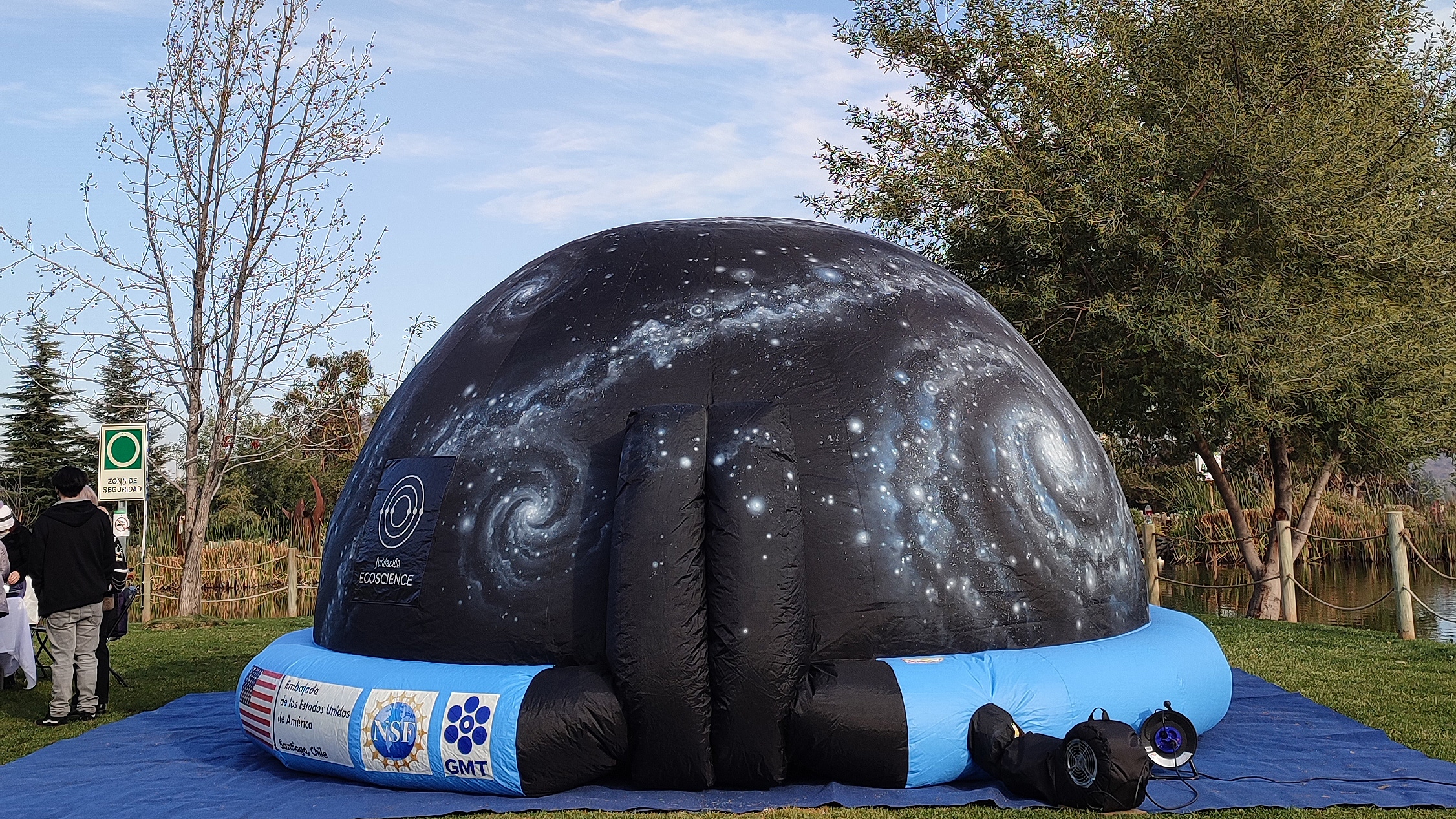 Sharing astronomy through the life and work of Alfonso X

Science and art come together to engage people of all ages from a collaboration between the Giant Magellan Telescope and the Municipal Theater of Santiago.
On January 8, 14, and 15, our pop-up planetarium will be installed in the main foyer of the Municipal Theater of Santiago, from the framework of the performances of the family play, "The King Who Wanted To Be a Musician." This is an opportunity for attendees to have a unique immersive experience, to learn about astronomy and the secrets of the Universe through a journey to the center of the Milky Way, featuring constellations and black holes.
"The King Who Wanted To Be a Musician" is a musical from Alonso Torre and produced by the Pequeno Municipal. With this, children can experience the arts that are cultivated in the Municipal of Santiago in an educational and entertaining way. The musical pertains to the life and work of Alfonso X, the king who contributed to world culture and heritage, leaving a great astronomical legacy.
"This is an unprecedented opportunity that makes us very happy, promoting culture and scientific education in a fun and unique way, and bringing astronomy and the work of observatories directly to the public, who will be able to enrich themselves through the staging of theater and the planetarium together in one place," shares Oscar Contreras, vice president and legal representative of the Giant Magellan Telescope.
Carmen Gloria Larenas, general director of the Municipal Theater of Santiago, shares that this opportunity to connect the show "The King Who Wanted To Be a Musician", with its characters, music, and medieval instruments, with the world of the astronomy, is wonderful. "Chile is a country that identifies with astronomy and we are proud to have achieved this collaboration that will transform the Municipal Theater of Santiago from the inside."
About
The Giant Magellan Telescope is the future of space exploration from Earth. Using seven of the world's largest mirrors, the 25.4-meter telescope will produce the most detailed images ever taken of our Universe. It will uncover the cosmic mysteries of dark matter, investigate the origins of chemical elements, and verify signs of life on distant planets for the first time. The Giant Magellan Telescope is the work of the GMTO Corporation, an international consortium of thirteen research institutions representing six countries. The telescope is under construction in Chile and anticipated to be completed in the late 2020s.
The Universe Awaits at giantmagellan.org.
Contact
Oscar Contreras-Villarroel
Vice President and Legal Representative