Extrasolar Digital Art Competition Winners Imagine Distant Planets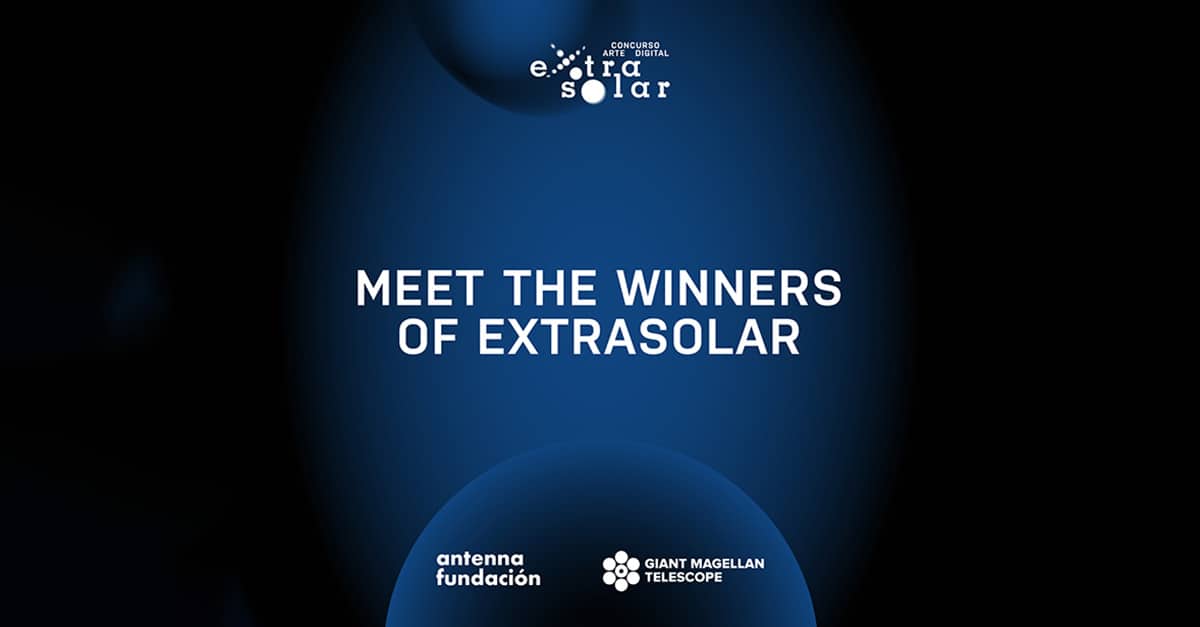 From 200 creative entries and more than 12,000 public votes, four winners of the inaugural Extrasolar Digital Art Competition were announced in Chile.
SANTIAGO — October 10, 2023 — Winners of the inaugural Extrasolar Digital Art Competition were announced today. The competition, created by Fundación Antenna and the Giant Magellan Telescope, was launched in early 2023 to promote creativity and the intersection between art and astronomy in the country of Chile. The competition honored four digital creators with artistic recognition within the country and a monetary award for their work.
The first year of the competition was well received by the Chilean art community, with more than 200 entries from 10 regions of the country. Contestants included both amateurs and professionals in digital creation, ranging in age from 14 to 65 years old. The artists where asked to submit creative proposals on how they imagine distant planets, and presented their work using various artistic disciplines in their videos such as stop motion, digital animation, and even artificial intelligence to recreate unknown planets.
After four months of open competition, the final selection process was carried out by a panel of judges made up of Rebecca Bernstein, Chief Scientist for the Giant Magellan Telescope; Daniel Cruz, Director of Chile's Museum of Contemporary Art, and Carolina Pino, artist and professor at the UAI Design Lab. In addition to the judges' verdict, a public vote was held to democratize the selection.
Ignacio Concha was the winner of the 2023 Extrasolar Digital Art Competition, and honorable mentions went to the creative duo Rafaella Pagliettini and Ignacia García and the collective formed by Simón Jara and Daniel Reyes. Through a public vote of more than 12,000 people, the winner of the Public Vote Award was Felipe Solís, whose work Astros Soñados (Dreamy Stars) obtained more than 2,000 votes.
The winners received $5 million CLP for first place, $2 million CLP for the winner of the public vote, and $1.5 million CLP each for the honorable mentions.
Alfonso Díaz, Executive Director of Fundación Antenna, congratulated the winners and said, "I hope that this award will be a boost to their careers. Many of the applicants are young people and high school students with great talent and creative potential. We hope that Fundación Antenna will continue to help motivate more people to discover their artistic vein. This is our contribution to a more creative and innovative country."
"Congratulations to the four winners of this first version of Extrasolar," said Oscar Contreras, Vice President and Legal Representative of the Giant Magellan Telescope in Chile. "It fills us with joy to know that science and astronomy are an engine of inspiration and creativity to the residents of Chile, allowing us to explore through our imagination. The Giant Magellan Telescope will allow us to explore the universe and, together with Extrasolar, also promote artistic creation in our country."
Meet the Winners
First Place
Ignacio Andrés Concha Navarrete (33 years old) with the video El Cementerio Espacial (Space Cemetery) (watch here).
Ignacio is an industrial civil engineer who loves technology and enjoys creating space video games together with a community of people. His work invites us to reflect on the beauty of the unexplored Cosmos. It introduces us to an icy exoplanet that protects the memory of past souls in the form of fairies. These represent the generations that will pass on to make space exploration possible, seeking to awaken empathy and comprehension of the unknown.
Public Vote and Young Talent Award Winner
Felipe Alonso Solís Álvarez (17 years old) with the video Astros Soñados (watch here).
Since he was a child, Felipe has been fascinated by art. At the age of 12 he started making 2D animations for YouTube, and at 16 he began playing with visual effects. In his work, he presents 3 exoplanets, inspired by the winds of HD 189733b and the rains of WASP-76B, and he shows what would happen if there was human interaction with these unknown worlds.
Honorable Mention
Rafaella Pagliettini (16 years old) and Ignacia García (15 years old) with their work Trazando Sueños Cósmicos (Charting Cosmic Dreams) (watch here).
Rafaella has been interested in fantasy books, art and film since she was a child. She started making her video with a classmate for a school project. And she learned that they had been awarded honorable mention just after finishing a math test. Made with stop motion and drawn by hand, their work is about the adventures of Robinson the robot, who follows a red balloon on a long journey that ends on an unknown exoplanet.
Honorable Mention
Agencia Colectiva, formed by Simón Jara (34 years old) and Daniel Reyes (43 years old) with their work Micelio A (Mycelium A) (watch here).
This artistic duo has been working together for 2 years. They have already presented their exhibit Extraña Dignidad (Strange Dignity) at the MAC Forestal this year. The work Micelio A presents a fictional piece with Japanese aesthetics about an exoplanet where there are only mushrooms and stones, and where the day goes by so quickly that the shadows are constantly moving back and forth. These shadows give the impression that the mushrooms are "playing" with the stones, mounting one on top of the other and giving us true art installations or compositions.
The Extrasolar competition is sponsored by the Inter-American Development Bank (IDB). It is broadcast by NTV -TVN's cultural channel-, Radio Concierto and Ladera Sur, with the collaboration of the Mirador Interactive Museum (MIM), the Museum of Contemporary Art (MAC) and the Museum of Visual Arts (MAVI).
About Fundación Antenna 
Since 2015, Fundación Antenna has been dedicated to bringing art and culture closer to the people in Chile. To this end, it carries out projects with organizations and companies that make a significant contribution to the community, such as Murales para Chile (Murals for Chile), where local muralists painted the walls of 10 schools in different regions, positively impacting more than 8,000 students. See more at www.antenna.cl 
About the Giant Magellan Telescope
The Giant Magellan Telescope is the future of space exploration from Earth. Using seven of the world's largest mirrors, the 25.4-meter telescope will produce the most detailed images ever taken of our Universe. It will uncover the cosmic mysteries of dark matter, investigate the origins of chemical elements, and verify signs of life on distant planets for the first time. The Giant Magellan Telescope is the work of the GMTO Corporation, an international consortium of thirteen research institutions representing six countries. The telescope is under construction in Chile and anticipated to be completed in the late 2020s.
The Universe Awaits at giantmagellan.org.